History
Story Of Vadapav
Vadapav, most liked indian fast food dish, sometimes spelled wadapav or vadapaav or vadapao, is a vegetarian fast food dish native to the Indian state of Maharashtra. A simple creation involving a deep fried potato patty with some coriander and spices. The original Maharashtrian Vadapav is served with a potato petty with non-cooked pav and spicy garlic chutney.
Vadapav has nowadays become favorite fast-food dish for all age of people. In fact, it has turn out to be a synonym for Western country's most popular fast food dish-Burger but with Indian touch-Indian Burger. Vadapav has evolved with many flavors and types in various states of India as per the taste of local people.
Discover our menu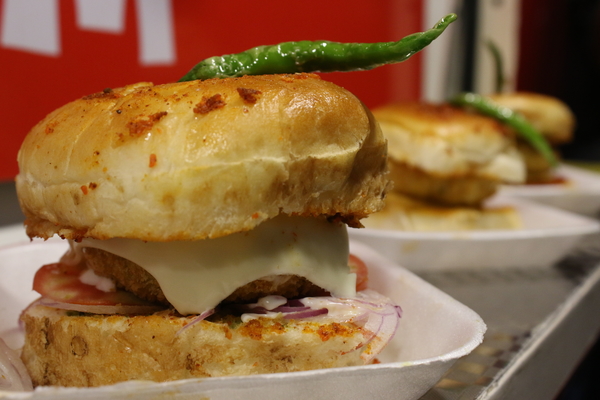 Agadbam
Fun with Hygienic Delicious Food
Agadbam has been established to serve Qualitative hygienic delicious fresh food with a lot of fun. We believe that customer satisfaction, healthy-fresh food, taste and service are the most important factors.
Agadbam has come up with many new flavors of India's favorite fast food dish-Vadapav and Burger. We serve many types of burgers and vadapavs. To fulfill our mumbaiya taste lover customers we serve the basic mumbaiya Vadapav too. We also serve multi flavored well-known cold drink soda like Blackcola, Whitecola, Mango etc. to carry out our customers' desires. Discover our menu to hook your favorite Agadbam Burger taste.
Opening Hours
Call For Catering/Home Delivery
Monday to Friday
06:30 PM - 11:00 PM
Saturday - Sunday
6:00 PM - 11:00 PM
Menu
Burgers | Vadapavs | Beverages
Connect
Talk to us about how we are doing or to get information about Franchisee. We value your opinion and want to hear about your Agadbam experience.
We also cater for functions, parties, marriages, receptions etc. Contact us to book such events.
Head Office
Rajkot-Gujarat,India
+91-87580 94049
theagadbam@gmail.com
Store Locator
Dr Homi Dastur Marg,
Near Dr Yagnik Road,
Rajkot-Gujarat,India
Testimonials
What our customers say about us
"The Agadbam is one of those place where you don't count the bucks spent! The fusion food brings you with watery mouth and depart with licking fingers & Smiling faces! Hope to see this food truck venture- the first of its type in Rajkot fetch proportionate response!!"
"I would say "Delicious Disruption", 10/10 to the name "AGADBAM" :), 11/10 to "Double Decker Storm". I think this trend of food truck is just the beginning in Rajkot, but this will go way beyond. Great range of innovative Burgers and Vadapav. You guys should take advantage of being food truck by moving around. Post your Schedule on social media and we keep following you where ever you go. :)"
"With a great range of Burgers and Vadapavs, great service from the very friendly staff with great quality test,"